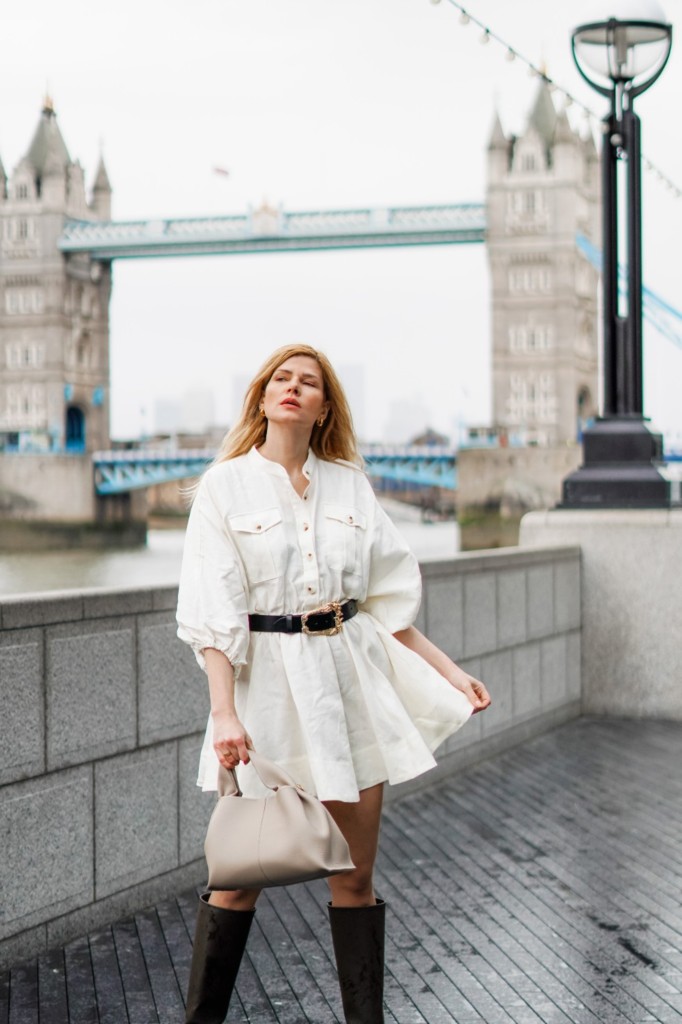 Wearing: Dress: Shona Joy, Boots: Zara, Bag: Polene, Belt: Black & Brown
SHOP SHONA JOY
Are you sometimes that person that has enough of the usual suspects when it comes to high-street fashion? You want something different and want to strut in a dress that will fits like a glove and is made of good quality fabric? Then head over to Australia. And there is no need to book a ticket or travel with your finger on the map. You can just explore their wonderful fashion brands that have so much to offer.
I discovered first few Australian brands when I started blogging and immediately fell in love with Aje. Back then it was rare to see it around or even buy something easily but few years later you can get hands on their beautiful designs. There are many wonderful fashion brands coming from Australia and introducing effortless summer styles. You may love brands like Talulah, Elliatt or Alice McCall that is so popular in UK. This brand was hit hard during pandemic however it does not change a fact they do beautiful clothes.
One of my absolute favourites though is Shona Joy. Brand that offers timeless elegance with a twist. It is wearable but not boring. It works with fantastic fabrics and does not fail to surprise me with each new collection. They offer so much from evening dressing to party pieces but also elegant dresses for the office environment. I am lucky to own few pieces and I know that their models are easy to wear and are fantastic option for so many occasions.
My linen dress with balloon sleeves is a great example of timeless fashion and it can be worn again and again. Whether you are heading to a al fresco lunch, dinner on the holiday, picnic or even a festival this dress with work and it comes in other colours too.
I could literally shop everything on their website and hope you will love it too.
Taky to obcas mate tak, ze mate plne zuby obleceni z retezcu? Rikate si, ze veci jsou to sice krasne, ale postradate neco navic, neco vic unikatnejsiho a neco co neuvidite desetkrat pri ranni jizde metrem. Jestli mate zalusk na novy kousek do vaseho satniku, staci zabrouzdat v Australskych vodach, tedy spise v jejich modnich znackach, ktere jsou neotrele, kvalitni a neokoukane.
Kdyz jsem zacinala blogovat pred mnoha lety, narazila jsem na znacku Aje, kterou miluju doted. Tenkrat to nebylo tak jednoduche jejich kousky sehnat, ale dnes uz jsou k dostani v Britanii na nekolika e-shopech a jejich modely me bavi porad stejne. Ale u Aje to zdaleka nekonci. Budou se vam urcite libit i znacky jako Talulah, Elliatt ci popularni Alice McCall, ktera je oblibena v Britanii. Ta se dostala behem pandemie do financnich problemu, ale to nemeni nic na tom, ze jejich obleceni je fantasticke.
Jedna z mych nejoblibenejsich Australskych znacek je ale urcite Shona Joy. Je to značka, která je známá po celém světě a získala si svou popularitu zejména díky svým modelům na svatbu a večerní akce. Čeká vás ale mnohem více. Většina kolekcí přinese každý rok velmi šik kousky, které jsou nadčasové, ale přesto velmi zajímavé. V jejich kolekcich najdete jak nesmrtelného leoparda tak i flitry či květinové potisky. . Jejich Instagramová stránka je plná inspirace a stojí za to ji sledovat.
Tyhle saty jsou perfektnim prikladem nadcasovosti a hodi se na tolik prilezitosti. At uz se chystate na picnic, festival ci dovolenou. Je to kousek, ktery se da nosit leta a bude tim evergreenovym kouskem v kazdem satniku. Ja osobne bych mohla jejich e-shop vykoupit cely a snad se bude libit i vam.
Eva
Continue reading