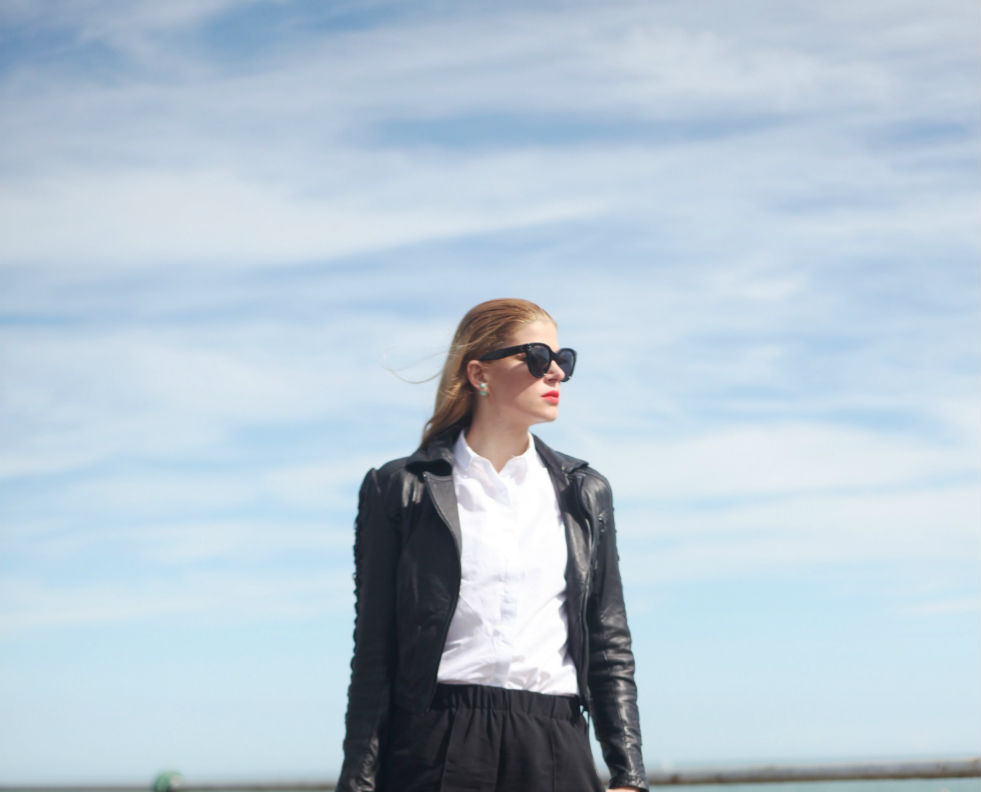 Wearing: Asos Trousers, Stella McCartney Bag, Nike Shoes, Zara Shirt (similar KIMEM), Swagga and Soul Leather Jacket, Celine Sunglasses, Earrings Ebay
On Saturday I jumped on a train to Brighton to shoot Atosas's collection. She just graduated and wanted some good pictures of her designs and asked me to model. Well, it was fun day and you may have seen some pictures on Instagram but I will show you some more soon.
When I travel I always go for comfort so that is why I went for simple black and white outfit and sneakers. And It was a good choice. You are probably not to this sort of hair and makeup on me but I wanted to keep this fab styling at least until I got home. I simply love it.
V Sobotu jsem cestovala vlakem do Brightonu jelikoz me ma kamaradka Atosa poprosila, jestli bych na me nemohla nafotit jeji finalni kolekci. Nedavno dokoncila vysokou skolu a potrebovala pekne fotky na presentaci jeji zaverecne kolekce. Urcite jste par fotek jiz na instagramu videli, ale vydam o celem dnu specialni clanek.
Vzdy kdyz cestuju, tak volim pohodli a tento cernobily outfit je na cesty jako delany. A o teniskach nemusim snad ani psat. Nejlepsi boty na svete. A nelejkejte se makeupu, byla jsem z nej tak nadsena, ze jsem si jej nechala az do vecera.
Love Glamazon xoxo