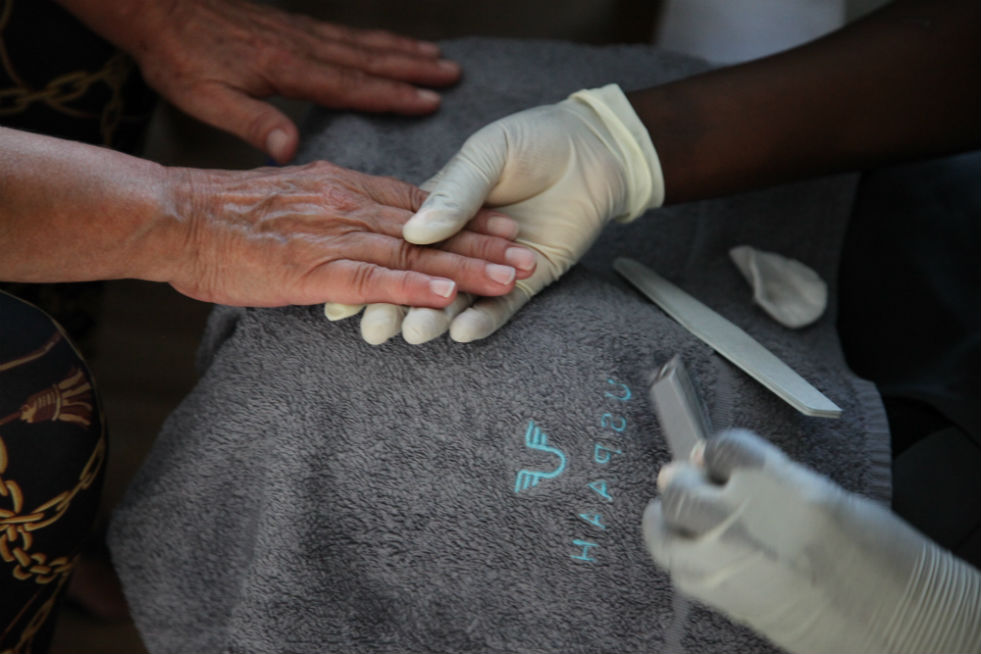 I have always loved having treatments done. I am a number one fan of massages and I thought it would be a lovely idea to organise girly day for myself and my mom when she comes over to visit. There is nothing more fun than a girly day with my mum or a friend.
I have booked us a Sparista via USPAAH application that is very easy to use. The services are available in London but also some surrounding areas and you can choose from 50 different luxury massages and beauty treatments. If you fancy facial, massage or even a hair cut they offer it all.
I am a lover of massages so for me it was an easy choice and mum decided for manicure and pedicure and absolutely loved it. The service was immaculate and I personally love having this done in the comfort of my home. It suits me as a mum. I save time as I do not have to travel and I do not need to organise babysitting which can be a nightmare otherwise. We were both so happy with the outcome and had a beautiful half day together.
And if you want a spa experience you can always create a lovely atmosphere in your house. I always make sure I have candles on and play relaxation music to create the most authentic experience. If you want to try any treatments you can do so and get 15 £ off with code INSTAEVA15.
Vzdy jsme mela rada, kdyz si na sebe muzu udelat cas a jak mozna vite, miluju masaze a kosmeticke procedury. Napadlo me usporadat takovy den pro maminku a pro me v pohodli naseho domova. Maminka je u nas v Londyne na navsteve a ja jsem se rozhodla objednat nam pres aplikaci USPAAH terapistku do domu.
Ja opravdu miluju masaze a maminka neni az tak velky fanousek, tak jsem se rozhodla, ze pro ni bude lepsi manikura a pedikura. A byla nadmiru spokojena. Miluju kdyz muzeme travit cas prijemne a v pohodli domova. Je jasne, ze jako maminka usetrim spoustu casu cestovanim nekam do salonu a take si nemusim delat starost s hlidanim. Vse si necham udelat v pohodli domova. Nerikam, ze salony nemam rada, ale obcas mi to vyhovuje doma a jsem rada, ze nemusim cestovat pres pul Londyna.
USPAAH nabizi pres padesat ruznych procedur a masazi a jestli mate chut na masaz, kosmeticke osetreni, ci nechat se ostrihat, muzete si nechat vse udelat v pohodli vaseho domova. Ja se vzdy snazim vytvorit prijemnou atmosferu a zapalim si vonne svicky a pustim relaxacni hudbu.
A jestli se rozhodnete sluzeb vyuzit, muzete tak ucinit se slevou 15 £, kdyz pouzijete kod INSTAEVA15.
This article is in collaboration with USPAAH. This is not a sponsored post.