Christmas is so close and I can say first time that I am almost done with all the shopping. All I need to get is one or two more bits and I love how organised I am this year. I am also bringing you this years gift guide so you can hopefully find some inspiration and ideas. I love sharing tips and gorgeous things you may love for yourself or for others.
It is one of my most favourite time of year. I love doing festive things, presents shopping, house decorating, baking and wrapping presents. So I am planning to enjoy it as much as I can.
Vanoce jsou tady za par tydnu a poprve muzu rict, ze mam skoro vse nakoupene. Zbyvaji mi asi jedna ci dve veci. A uplne se vyzivam v tom jak jsem letos pripravena s predstihem. A jako kazdy rok jsem s vama chtela sdilet par tipu na Vanocni darky a treba vas neco z tohoto inspiruje. 
Je to moje oblibene obdobi a miluju vsechno kolem. Vyzivam se ve vyzdobe, nakupovani, peceni, baleni darku, vecircich, jidlu a dobrem piti. Samozrejme si rada i dam svarene vino a opravdu jsem pripravena si techto par dni uzit jak to nejvice jde. 
Handbags are great presents for women. This year I have picked one affordable by Skinny Dip  that would be great for somebody who is planning NYE full of sparkle. It adds so much glam and the price is a bargain. The Strathberry bag is more expensive and great if you love fantastic craftsmanship. The quality is so high and it is also very wearable.  If you are looking for some jewellery ideas I feel necklaces are a great item to gift. This coin style chunky necklace from Ettika is priced so well or you can splurge a bit more on this Moon Necklace by Thomas Sabo that comes also in silver version. Such a fab delicate piece. If you want to gift something small, sparkly but not expensive perhaps to your friend or have something cute for a stocking how about this portable charger or silver hair pin?! I love them both and they look so festive!
Kabelky jsou skvelym darkem. Letos jsem vybrala jednu levnou, ale uzasnou treba na Silvestra od Skinny Dip. Tyhle trpytive kabelky me hodne bavi. Na druhou stranu mate mozna radi kvalitnejsi a drazsi veci a tato kabelka od Strathberry nebo nejaky jejich jiny model by mohl uspokojit narocnejsi damy. Jejich kabelky jsou skvele udelane a hodi se na spoustu prilezitosti. Ze sperku jsem letos vybrala tento vyrazny nahrdelnik s minci od firmy Ettika a pokud se vam libi drobnejsi kousky co treba tento retizek s priveskem ve tvaru mesice od Thomase Sabo. Je k dostani i ve stribrnem provedeni. Jestli chcete obdarovat nekoho mensim, ale milym darkem co treba tato disko sponka? A mozna by udelala radost tato blyskava prenosna nabijecka na telefon. Drobnejsi darky jako tyhle se hodi i do Vanocnich ponozek :)
If you know somebody who loves beauty and cosmetics L'occitane has so much to offer when it comes Christmas Gifting plus they have lot of offers during Cyber week so keep your eyes peeled. How about a nice set from this brand for your loved ones? I also love getting cosy slippers myself and I know my family is a hugely into it too. This khaki model looks so warm and comfortable. And most women love beauty gadgets like hair dryers, curlers or straighteners. One of my favourite brands GHD has some fabulous gift boxes including this one that contains their fab brush I have been using many years.
Jestli znate nekoho, kdo ma rad kosmetiku tak L'occitane dela vyborne darkove sady k Vanocum. A navic ted v UK maji spoustu akci behem tohoto tydne a cerneho patku. Co treba hezka darkova krabice jako darek pro vase blizke? Ja osobne miluju hezke a pohodlne papuce a tyhle zelene jsou trefou do cerneho. Vypadaji teple a pohodlne a to mam rada. No a nesmim zapomenout na upravu vlasu. Zeny maji radi vsechny mozne zkraslovaci pomucky jako feny, kulmy ci zehlicky na vlasy. Jedna z mych nej znacek je urcite GHD a tato vanocni sada, v niz najdete zehlicku a jejich skvely hreben je idealnim darkem. 
Pyjamas are definitely another favourite that appears as a gift in my family each year and I love this one with pineapple print so much. It looks glam but fun at the same time. I have always struggled with presents for my grandmother but I know she loves tea and to make it special you can gift perhaps more luxury version from Newby. It definitely feels more special. Another great universal gift is a nice hand cream this limited edition looks super festive. If anybody you know is into natural skincare Tata Harper is such a luxury treat and this gift set looks dreamy. You can add the timeless bestseller from Nuxe which is their oil and you have fabulous gift for any lady.
Pyzama jsou u nas v rodine oblibenym darkem. Toto pyzamo s ananasy je rozkosne a vypada velmi pohodlne. Jako kazdy rok mam vzdy problem s darky pro starsi generace, ale treba moje babicka ma rada caj a tak mi prijde jako skvely napad nekomu darovat vice luxusnejsi verzi caje jako dela treba firma Newby. Dalsim univerzalnim darkem je urcite prijemny krem na ruce. Tento z limitovane edice od L'Occitane pusobi opravdu Vanocne. Jestli mate v okoli nekoho, kdo miluje prirodni kosmetiku tak Tata Harper je jednou z nejlesich znacek vubec. Ma nekolik darkovych baleni a kdyz k nemu prihodite treba klasiku od Nuxe v podobe jejich oleje, mate darek na jednicku. 
Another fabulous presents are luxury candles or diffusers. I personally love getting them. This year I have picked these from Lavender and Lillie from their Dover Street Range. The packaging is just beyond. Beauty lovers may love some Christmas edition palettes like this one from Guerlain or this Nars from studio 54 range. Both look so festive and glamorous. I also had to add these cute but affordable earrings which are perfect for every day wear.  Another amazing gifts would be Guerlain cream, Luminous silk hydrating Armani Primer or this Algenist Serum. You just cannot go wrong with beautiful and good quality beauty products. And there is so much to chose from.
Oblibenym darkem jsou take luxusni svicky ci vune do domu. Zamilovala jsem si znacku Lavender and Lillie, ktera ma opravdu luxusni baleni. Moc mi vyhovuje rada Dover Street, mozna to bude tim, ze je inspirovana Londynem. Milovnici pece o plet a kosmetiky urcite oceni slavnostni paletky jako tato Vanocni od Guerlain ci skvela paletka od Nars z rady Studio 54. A rozhodla jsem se zaradit par skvely produktu od oblibenych znacek. Co treba krem od znacky Guerlain, Luminous silk hydrating Primer od Giorgio Armani ci serum od znacky Algenist. A v neposledni rade nesmim zapomenout na tyto rozkosne jednoduche nausnice, ktere vam nezatizi Vanocni rozpocet a hodi se na kazdy den.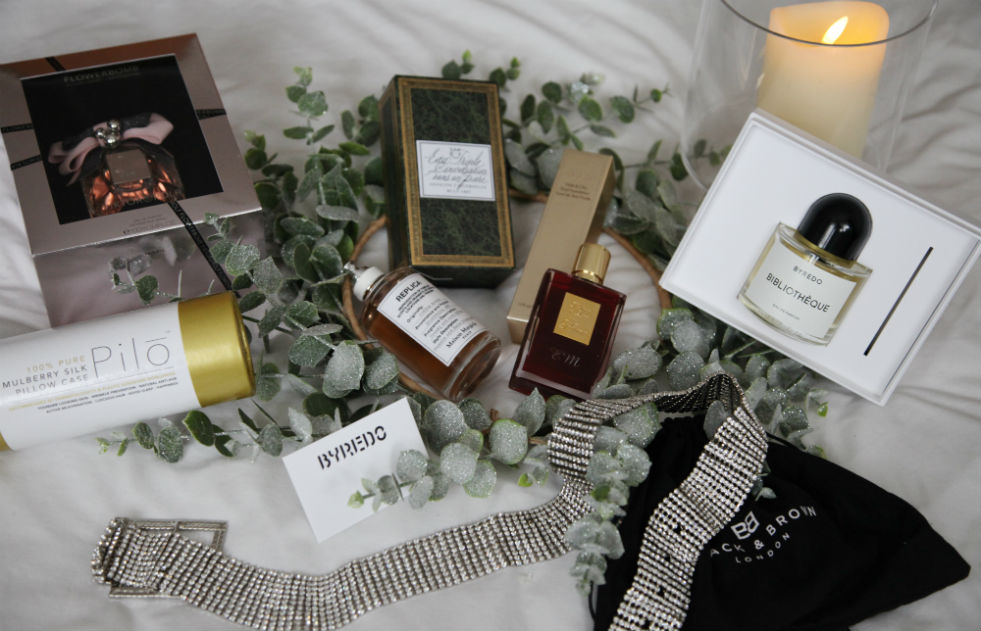 Last but not least I wanted to share two amazing brands and two amazing products I personally love so much. Pilo offers luxury mulberry silk pillow cases that help your skin and hair and give you the best beauty sleep. They come in luxury packaging and are a perfect addition for beauty lovers. I also wanted to include at least one Black and Brown belt as it is one of my favourite brands. They do amazing quality belts worth every penny.
Its a must to include this fab foundation by Stila as it would not be Christmas without a nice foundation as a present. And of course it would not be holidays without some fabulous fragrances. The market has so much to offer and I myself have huge collection but I wanted to share with you some great fragrances and brands you may love. This year I picked this festive edition of Flowerbomb, luxury Rolling in love by Kilian, Bibliotheque by Byredo, Coffee Break by Maison Margiela and absolutely fantastic Eau Triple Conversation dans un parc by Officine Universelle Buly 1803. They are all very different but each has something very special about it.
I truly hope you all found something as an inspiration or something you may like and definitely keep checking for most posts as there are amazing Black Friday offers coming your way.
A v neposledni rade jsem chtela zaradit dve znacky a dva produkty, ktere sama opravdu miluju. Prvnim jsou hedvabne polstare od znacky Pilo, ktere jsou skvelym darkem pro milovniky krasy. Prispivaji vasi peci o pokozku a vlasy. Je to prevence proti vraskam a lamani vlasu. Navic maji prekrasne a luxusni baleni a ja sama uz je pouzivam delsi dobu. Dalsim skvelym darkem by byl urcite nejaky pasek od znacky Black and Brown. Tento trpytivy nosim neustale a delaji opravdu kvalitni veci.  A abych nezapomela, chtela jsem zaradit nejaky dobry makeup a tento od znacky Stila je novinkou, tak proc ho nedarovat k Vanocum?
Samozrejme nesmim zapomenout na to zaradit nejake parfemy, coz je vzdy tezke vybrat. Ja sama mam velkou sbirku a tak je opravdu slozite jich vybrat par. Kazdy z techto je jiny a ma neco do sebe. Letos doporucim klasiku Flowerbomb od Viktor & Rolf, luxusni Rolling in Love od Kilian, Bibliotheque od Byredo, Coffee break od Maison Margiela a take fantasticky parfem Eau Triple Conversation dans un parc by Officine Universelle Buly 1803. 
Ja doufam, ze jste nasli neco co se vam libi a urcite si hlidejte nove clanky, jelikoz chystam dalsi clanek plny akci a slev behem cerneho patku.
Eva
This article contains gifted items and affiliate links. This is not a sponsored post.